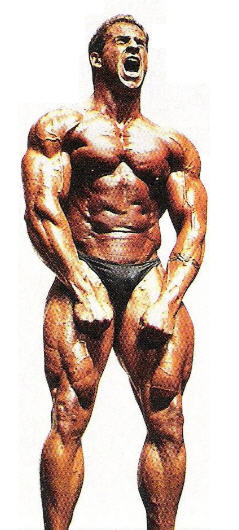 Back when a BUSH who could pronounce multisyllabic words headed the United States, TOM TERWILLIGER was one of bodybuilding's hottest properties.
The Long Island native worked his way through the amateur ranks in the late 1970s and early '80s, eventually winning the light-heavyweight class at the 1986 Nationals and competing in pro contests in the late 1980s and early '90s, including the Mr. Olympia.
THEN, Tom and identical twin MIKE discovered bodybuilding by way of older brother RAY, who was their martial arts instructor. When Ray saw that his 13-year-old brothers' interests in roundhouse kicks was slowly being replaced by thoughts of girls, he advised them to consider bulking up their BRUCE LEE physiques via progressive resistance training. A few years later, Terwilliger joined Futureman, one of the few hardcore gyms that peppered the New York City suburbs at the time, where he caught the discerning eye of 1978 Mr. New York City winner TONY PANDOLFO.
Under Pandolfo's guidance, Terwilliger learned the bodybuilding ropes. By 19, he'd won the teen division of the Mr. Southern USA. In 1984, he took the light-heavyweight class in the Junior USA Championships. The following year, he placed second in the light-heavy class of the Nationals to overall winner PHIL WILLIAMS.
Terwilliger's breakout year came in 1986, when the 27-year-old won the light-heavyweight class at the 1986 Nationals, beating MIKE ASHLEY, J.J. MARSH and AARON BAKER in the process. With his victory, Terwilliger earned a ticket into the IFBB ranks and the realization of a 14-year-old dream.
As a pro, Terwilliger's success was modest, with a high placing of third at both the 1989 and 1991 Niagara Falls Pro Invitational. He also made two Olympia appearances, in 1989 and 1991. But it wasn't mere statistics that ensured his place in the pantheon of bodybuilding greats–Terwilliger was one of bodybuilding's most dynamic posers. With the potent combo of charisma and good looks, Terwilliger also garnered plenty of media exposure, including a cameo in the video of BILLY JOEL's "You're Only Human" and cohosting duties, along with STEVE STONE, on the long-running Fox Sports program MuscleSport USA.
Shawn Perine "Where are they now? Tom Terwilliger". Flex. July 2006. FindArticles.com.
http://findarticles.com/p/articles/mi_m0KFY/is_5_24/ai_n26903228/