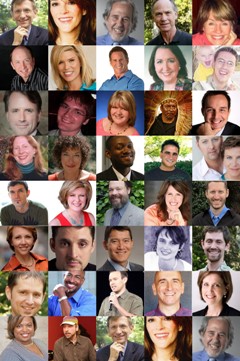 While our world is facing numerous economic, social, and environmental crises, one of our greatest signs of hope is the rapidly growing field of social entrepreneurship which embraces a triple bottom line – people, planet, and profit.
This truly unique global tele-series will inspire and empower you to think bigger, strategize better, and make the contribution you're capable of making.
I am honored to share the stage with some of my personal heroes, NY Times #1 best-selling authors, self-made millionaire entrepreneurs, and global visionaries such as Marianne Williamson, John Robbins, Ali Brown, Bruce Lipton (<– one of my VERY favorite), Julia Butterfly Hill, Bill Drayton and more inspiring pioneers of social change.
Please join us and discover how these people came up with brilliant ideas, and against all odds, succeeded at creating humanitarian products, services, and organizations that are transforming the world.
I invite you to join me and the other 38 inspiring leaders:
All of this costs you nothing because we are committed to reaching as many people as we can with this series, and we don't want money to be a barrier for anyone.
See the full lineup of speakers
These are people who have built movements for social change, justice, and environmental sustainability that have catalyzed millions of people. Their business acumen has helped them to build prosperous companies and organizations that are making a dramatic positive difference in people's lives.
You'll get the latest thinking on green marketing, conscious marketing, mission-based business, online movement building, client attraction, book authoring and marketing, branding, niching, outsourcing, generating a mindset for success, the blueprint for starting a social enterprise, and the steps behind a successful product launch.
The first wave (Jan 11-20) includes leading global visionaries and social change activists who will inspire our compassion, creativity, and collective vision of a better world. The second wave (Feb 8-17) features some of the world's top business mentors sharing the inside story on how they became successful.
As I said, I am honored to be a part of such cool group of people!!