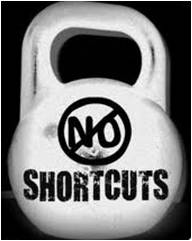 When I was young, ambitious (more ambitious) and filled with piss, vinegar and natural testosterone (more testosterone) and pursuing a professional athletic career I was very fortunate to have come under the wing of an extraordinarily committed mentor, Tony Pandolfo.
Tony owned the very first real gym I ever set foot in'Ķ "Future Man Gym"¬† in Amityville, Long Island – yes the same Amityville as the "horror."¬† And I'm still trying to live up to that name "Future Man."
Tony had trained, guided and inspired countless well know champions at the time so I knew was very fortunate that he was able to see something in me that warranted his time and knowledge.Very fortunate indeed – considering the fact that I threw up all over his new gym floor the very first day I trained there. I now recommend NOT eating 4 hot dogs before working out.
I once asked Tony– how he was able to identify who had what it took to go all the way as a champion.  What he told me was not what I expected to hear.
He said the true measure of championship potential had nothing to do with genetic predisposition, who trained the hardest, or who had the greatest level of skill or even the best coach.
But rather it had everything to do with everything.
He said – A CHAMPION IS someone who gives 100% to everything they do, even when the stakes are low, and when others see little or no value in the reward or the effort.
A champion, he said is that rare individual who has developed the habit of playing FULL OUT and giving 100% even when no one else is looking 'Äì so that¬† when the time comes to step up to the proverbial¬† plate'Ķ it happens automatically for them 'Äì they don't know any other way.
In other words "How You Do Anything Is How You Do Everything."