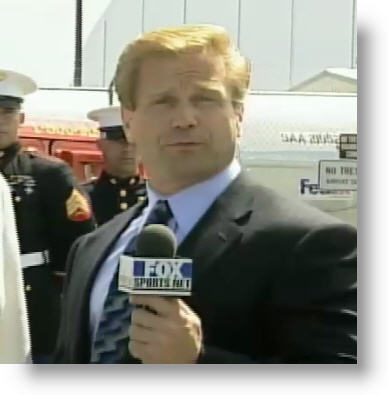 I'm in mourning today.
As I sit here in a small hotel room in Seattle preparing to emcee an event that celebrates life I mourn the passing of two great men. One you have come to know just as I have through the big screen, our television sets, and perhaps over a bowl of his own popcorn.
Paul Newman who once said, "If you're playing a poker game and you look around the table and can't tell who the sucker is, it's you."
The other once said, "If they need me, I'll be there." And he always was.  Steve Stone was my very dear friend.
Steve and I worked together for over 12 years as host and co-host of the then popular Fox Sports TV show, Muscle Sport USA. We traveled all over North America together capturingamature and professional bodybuilding and fitness.  We would often work until the wee hours of the morning editing and doing voice overs for the show.
One time we were in the studio until 5am which really wasn't that unusual. Steve then generously gave me a ride to my Manhattan apartment where I planned to crash from exhaustion for the next 15 hours. Steve on the other hand was headed directly to the Tribeca High School auditorium where he would spend the next 15 grueling hours first setting up and then expediting some body building contest.
I asked, "Are you crazy?" His reply was as it always was, "I know, I know…but here's the thing, they're counting on me to be there, plus…" They always counted on him to be there and he never let them down.
Steve's dedication to life and living it to the fullest meant trips to Vermont, Colorado and where ever the adventure would take him usually on his skis or mountain bike and always with his beautiful and loving wife, Andrea. His love, dedication and contribution to the sport of bodybuilding and fitness was only surpassed by his love for his wife. They were truly soulmates.
Steve died yesterday in Las Vegas after collapsing back stage at the Mr. Olympia contest where he was the chief expeditor. For many aspiring young bodybuilders and fitness competitors the "Olympia" is the pinnacle of success.  For Steve, who's life was devoted to serving others through his ability to help produce first class entertainment and keep the show moving without even a noticeable hiccup he too had reached the pinnacle.
Steve died doing what he loved– making a difference in the lives of those people he touched and I'm very proud to have been one of them.
Perhaps Steve and Paul are looking across the poker table at each other right now and thinking, "There's no sucker at this table."
RIP Steve… You too, Paul.